2023 Annual Conference
2023 Conference Save the Date.png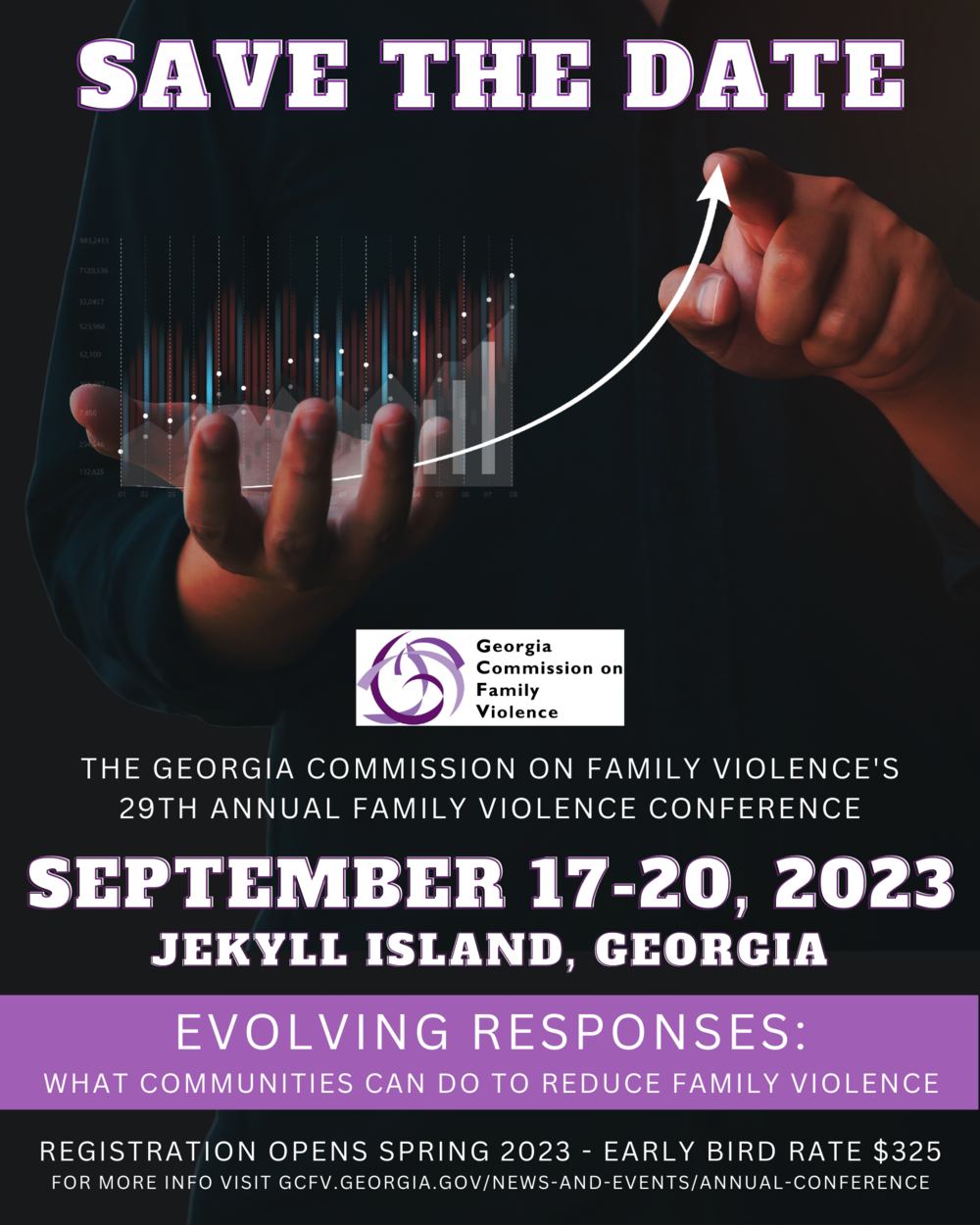 REGISTRATION OPENS SPRING 2023
29th Annual Statewide Family Violence Conference
"Evolving Responses: What Communities Can Do To Reduce Family Violence"              
September 17-20, 2023
The Jekyll Island Convention Center
Jekyll Island, GA
GCFV's annual conference is a professional training conference. It is an opportunity for people from a variety of backgrounds to come together and explore strategies to end family violence. Our goal is to provide a wide range of workshops that address the conference theme through a variety of family violence and sexual assault-related topics. We encourage proposals that address the challenges, needs and interests of a wide range of practitioners and stakeholders and offer innovative practices and concepts.
On average, GCFV welcomes 600+ attendees. Registration for attendance at this conference is limited to: certified Family Violence Intervention Program providers/facilitators (including providers/facilitators-in-training), individuals employed at an agency, department or organization that provides direct services to domestic violence and/or sexual assault victims (including first responders), child advocates or service providers, active law enforcement. Attendees represent a range of personal and professional backgrounds and experiences, providing services in Georgia and beyond.
GCFV Attendance Policy
The Statewide Family Violence Conference hosted by the Georgia Commission on Family Violence (GCFV) is a  multidisciplinary training event for professionals who are currently engaged in providing direct services to victims of human trafficking, domestic violence and/or sexual assault and who are attending to obtain continuing education hours required for licensing or certification. This event is also open to members of the clergy. It is not open to the general public. The Georgia Commission on Family Violence reserves the right to limit or refuse attendance to this event. 

Only the named registrant may attend the conference. A request to transfer registration must be submitted to GCFV in writing prior to Friday, September 5, 2023. Contact Jameelah Ferrell at [email protected] to request a transfer. GCFV will provide confirmation of transfers within 3-5 business days. GCFV will not accept any on-site registrations. There will be no exceptions to this rule.