:
27th Annual Statewide Family Violence Conference is Fully Virtual- Will Not Be in Jekyll Island
GCFV Annual Conference Fully Virtual- Will Not Take Place in Jekyll Island
Conference Registration
Registration is Now Open

GCFV Attendance Policy
The Georgia Commission on Family Violence Annual Conference is a professional training conference. Registration for attendance at this conference is limited to: certified Family Violence Intervention Program providers/facilitators (including providers/facilitators-in-training), individuals employed at an agency, department or organization that provides direct services to domestic violence and/or sexual assault victims (including first responders), child advocates or service providers, active law enforcement personnel, or licensed attorneys attending for the purpose of obtaining professional learning credits required for licensing or certification.
THIS CONFERENCE IS NOT OPEN TO THE GENERAL PUBLIC. 
If you are a former law enforcement officer, retired attorney, or other victim-related services professional who is not actively engaged in direct victim services, you may register and attend if space is available.

Registration Rates & Deadlines

In-Person
The conference will not take place in person, it has transitioned to a virtual conference.

Virtual
Early Registration:      $185  - Deadline August 20th
Regular Registration:  $200 - Registration Closes October 29th


REGISTER NOW
Conference Agenda
Conference Agenda .jpg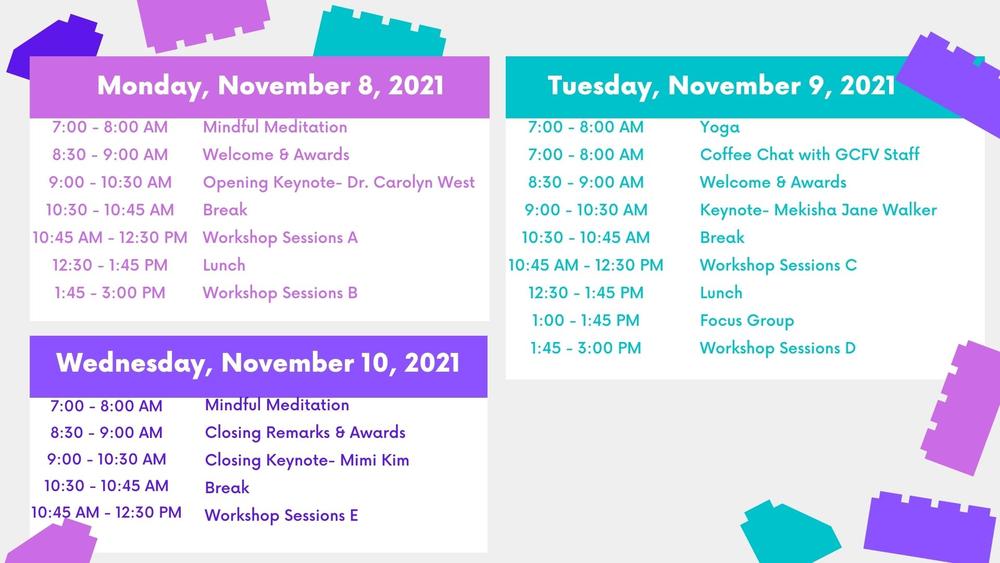 Scholarship Applicants
All scholarship applicants will receive an email notification from GCFV regarding the status of the scholarship request. If your request has been approved, you will receive an email saying your scholarship was approved and you can enter the scholarship code in the coupon code section. Do not register with a credit card or check if you have a scholarship.
Scholarships only cover the registration to the conference. 

Registration Cancellation and Refund Policy
All requests to cancel registration for this event must be made in writing no later than September 3, 2021. Refunds for registration are subject to a $25.00 processing fee. Cancellation requests received after September 3, 2021will not be eligible for a refund. Attendees submitting a request to cancel registration must include the name, phone number, and email address used to register for the event. Refund requests may require additional paperwork to be completed and submitted to GCFV to process refund payments. It is the responsibility of the registrant to return any requested paperwork in a timely manner in order to receive a refund. Send cancellation requests to Jameelah Ferrell at [email protected] .

Event Cancellation
The Georgia Commission on Family Violence (GCFV) reserves the right to cancel this event due to inclement weather or other unforeseeable circumstances which would make the event non-viable. In the event of a cancellation by the GCFV, registrants will be offered a full refund. Should circumstances arise that result in the postponement of this event, registrants will have the option to receive a full refund or transfer the registration to the same event at the future date.